This Inwood gym's not down for the count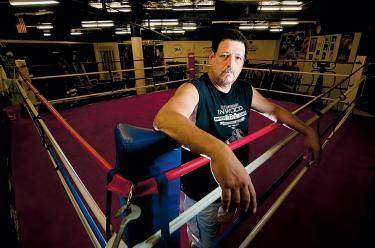 The Inwood Boxing Academy was against the ropes and its owner, Riverdale resident Joe Brender, was close to throwing in the towel.
A lifelong boxing enthusiast, the 57-year-old Brender fulfilled a personal dream by opening his own boxing gym in 2006. He spent tens of thousands of dollars of his own savings to get the place started and, over the next few years, Inwood Boxing Academy caught on with the local community, especially among the area's large Dominican population.
The IBA is located near the intersection of Academy Street and Broadway, quickly became a place where teens could come in and learn to box, get in shape and release any anger or frustration on a punching bag, rather than resorting to violence, drug-dealing or troublemaking out on the streets.
But it soon became apparent that the less-than-adequate equipment and facilities were making it almost impossible for Brender to draw any form of corporate sponsorship or even bring in more paying members from outside the immediate neighborhood. Without the funding to make necessary renovations, the overall condition of the gym continued to further deteriorate and the longtime Riverdalian admits IBA was in serious jeopardy of closing.
Read More Here...
In The Clearing Stands A Boxer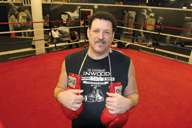 In 1922, in a boxing ring on a winter's night, in a small Philadelphia arena, Ty Cobb won a six-round decision against Babe Ruth.
No, not that Cobb and Ruth, but a pair of Jewish lightweights looking to mask their identities so as not to aggravate their mothers, while pumping up the gate with suckers expecting the real Ruth and Cobb.
"Cobb" was sort of telling the truth. His real name was Kolb, Sammy Kolb. Holden Kepecs, finishing production on "Stars In The Ring," a documentary he's producing about Jews in boxing, says that "Ruth" was Jewish, too, though his real name was lost in the cigar smoke of time.
Kepecs, 47, an Emmy Award-winning editor and producer, unearthed a scene in a Yiddish silent film, "His People" (1925) showing an aproned and matronly mother, alongside a bearded, Orthodox father, reading a letter from their son. "You see what he is," she says with regret. "A prize-fighter!"
The father looks to Heaven, "God of Israel! That a son of mine should sink so low."
Read More Here...